The following is an announcement by Dr Rizwhan Suleman MChiro of the Institute of Clinically Applied Hijama Therapy, an organisation providing Hijama Training in UK 
Online Human Anatomy Course For Hijama Therapists
Do you want to improve your knowledge and understanding of human anatomy?
Join the FIRST ONLINE INTENSIVE VERSION of our 6-month course on Clinical Anatomy designed specifically for Hijama Practitioners & Open to all with an interest in Hijama Therapy and Human Anatomy.
Dr Mike Grice (D.O) is a World-renowned specialist in the field of Anatomy and
intrinsic biomechanics. He is a Lecturer at the University College Birmingham. Having completed a degree in Osteopathy he undertook further postgraduate studies in clinical anatomy.
Why study anatomy as a hijama therapist?
The study of anatomy an integral part of training in all primary health care professions and is a prerequisite in order to safely practice hijama. 
Anatomy can be explained as the roadmap of the body and the knowledge which focuses on the structure of the human body from what can be seen with a naked eye i.e gross anatomy down to the sub-cellular scale. This knowledge is required to understand bodily function and to appreciate the interplay between the structure and function of the body in health and disease 
Course content and structure:
Musculoskeletal Anatomy will introduce learners to basic anatomical structures of the upper and
lower body and serves as an important underpinning base of knowledge. The scope of the module includes bones, joints, muscles, tendons and ligaments, as well as other tissues related to the musculoskeletal system such as fascia, cartilage, bursae and retinacula.
Overall it provides the learner with an applied practical understanding of anatomy, which is important to ensure technical competence and safety. 
Students will have access to an interactive e-learning facility that they can access remotely via the internet.  Each section will typically be covered in 2 weeks followed by email assignments that have to be submitted within specific timescales. 
| | |
| --- | --- |
|  SECTIONS OF THE ANATOMY COURSE | |
| Session 1 –  Introduction & Shoulder Girdle | |
| Session 2 – Elbow, Wrist & Hand | 15 March – 31 March, 2016 |
| | |
| | |
| | |
Where and when  will the course be delivered?
This intensive 3 month version of our Anatomy course will be delivered in the form of online videos as per the above schedule.
.
The 3 month intensive online course including study material (online PDF's of the lecture slides), online access to the recorded videos and fortnightly coursework and assignments is being offered at the introductory
rate of only £350 (valued at £499).
Who is this course open to?
The anatomy course is open to Hijama Therapists who wish to update their knowledge of Human Anatomy and anyone with an interest in hijama therapy and Human Anatomy
How to register for the Course:
Please note that there are limited places on the course and we will offer places on a first come first served basis. To register for the course please visit the following link: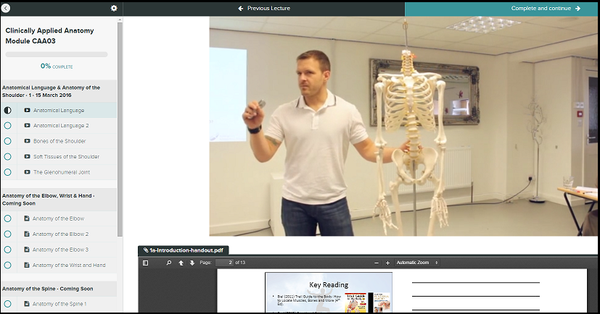 FEATURED ORGANISATION:
ICAHT (Institute of Clinically Applied Hijama Therapy)

LOCATION:
83 Rolleston Street
Leicester
England
United Kingdom
CONTACT DETAILS:
Tel: +44 (0)7533 446 373
_________________________________________________
Our thanks to ICAHT from England for sharing the above post. If you have any questions or want to leave some feedback on their training, then please do so via a comment* below.
If you are a hijama therapist or patient and are happy to share your knowledge or experience via a guest blog-post like the one above, please contact us by filling the form on the top right corner of the blog.
*Comments are moderated to prevent spamming so may take some time to appear